Scoop.it!
Writing Between the Lines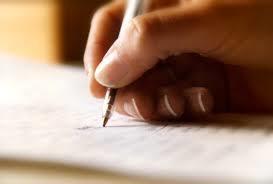 Vanessa Johnson's insight:
Writing is an important part of second language learning, and can also be one of the most difficult. Some people find it difficult to express themselves properly because they don't have the words or grammar to do so correctly. Writing in a second language can be a daunting task, especially if you know other people will be reading it.
Various methods of online writing are available to everyone, including language students. Blogging is a popular method and is used by a number of people around the world to communicate their thoughts and ideas. Language students can use blogging not just to communicate ideas but also to practise their writing skills. I have used blogging in the past, and while at the beginning I found it difficult to write a lot, and was confined to sticking to the structures and vocabularly I knew well, but later on I found it easier to experiment with the language. The main problem with blogging in a different language, is that if it isn't being marked then it is unlikely that any corrections will be made.
Blogs are also a great way of increasing reading. If students are required to write blogs each week, and also to read and comment on other blogs, they are practising both their writing and reading comprehension ability. It also gives students the opportunity to correct mistakes that are being made. in the writing.