Scoop.it!
ECONOMICS & INTERNATIONAL POLITICS - When horror in Niger gives a gold opportunity to the US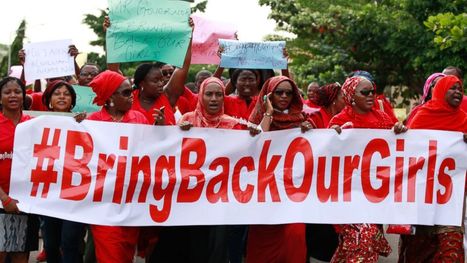 Charlotte Delabaere's insight:
WHAT ´S HAPPENING:
- April the 14th, 276 young women have been kidnapped in a high school, by an extreme Islamic group called BOKO HARAM. These events took place in Niger.
- In this context, the US are every day more and more refering to intervene military in Niger for "helping".
WHAT I BELIEVE:
- This affair according to me is far more complicated than it appears; it is not only one corrupted government supporting a terrorist action. I believe indeed that this local event is involving more actors than the Cameroun state and citizens. Like the United States that have a lot of military or economic interests there.
- POLICE OF THE WORLD – According to Ron Paul, the US have the purpose to "police the world" as a promoter of democracy and human rights. It is what appeared in the discourse of some members of the House of Representatives regarding the kidnapping of young women in Niger; "we are ready to help the Nigerian people and the Nigerian government. We will take action. "(Steve Stockman, US Representative of Texas). Okay. But this discourse hasn´t have been the same when it comes to the US intervention in Iraq or in Libya? So, I was wondering: what are the different forms of interests they may have in Niger?
- MILITARY – The plans of establishing drone bases in West Africa were set in early 2013. The first country targeted was Niger: "The United States military is preparing to establish a drone base in northwest Africa so that it can increase surveillance missions on the local affiliate of Al Qaeda and other Islamist extremist groups"*. Thus, I realized that the US had maybe some more ambitious plans that only "help" the young girls kidnapped. Indeed, this kidnapping justify the intervention they are already talking about, that is to say a "military intervention" against some terrorist groups: the "war on terror" scenario of Bush after 9/11. However, remember that having a military presence on a territory helps you increase your strong power and domination on it.
- ECONOMY - Niger is one of the countries on the African continent where oil and overall crude oil is naturally abundant. Last year and in early 2014, they were said to produce almost 2 million oil barrels a day (Bloomberg studies), when in comparison, in Iran they produce twice less (1.2Million a day) and Iraq they only produce twice more (4.2 Million a day). I mean in that way that the US, by giving itself the right of intervention for "helping people" give them the right of establishing a kind of domination over a new territory; an economic power.
Thus, if you think about it 2seconds, you will realize that the so-called enemies of the US (because they did something out-of-the-moral), have indeed common interests with the US: the installation of military bases of the exploitation of oil.
CONCLUSION: the take of position by the US with the Niger´s kidnapping affair reflects the strategy of being economically and military present there. By being more and more present in this region in some countries like Irak, Libya, Egypt, Mali and now Niger, I think the US are imposing more and more their military presence where there are economic interests: oil.
So, we are more or less letting the US make the police of Africa and Middle-Orient for some obscure interests they may have… where is the international community? Where is France? Where is Europe?
SOURCES:
- http://oeildafrique.com/cameroun-boko-haram-vice-premier-ministre-secretaire-presidence-cites-complice/ (Supposed denouciation of the government implication by a member of Boko Haram)
- http://www.washingtonpost.com/posttv/national/us-representatives-visit-nigeria-will-pursue-boko-haram/2014/06/15/6a82b1c2-2844-49a4-a4b4-c1e5bda4bd1d_video.html (US against the Niger)
- http://oeildafrique.com/nigeria-obasanjo-annonce-seules-les-filles-tomberont-enceintes-seront-liberees/ (government indifference and more than that, supporting the Boko Haram cause)
- http://www.egaliteetreconciliation.fr/Kemi-Seba-devoile-la-face-cachee-de-l-affaire-Boko-Haram-au-Nigeria-25411.html (possible implication of the US)
- http://www.nytimes.com/2013/01/29/us/us-plans-base-for-surveillance-drones-in-northwest-africa.html?_r=0 (Plan to establish drone bases in Nigeria)
- http://www.nytimes.com/2014/02/14/world/middleeast/sales-of-iranian-crude-oil-rose-in-january.html (Iran production of oil)