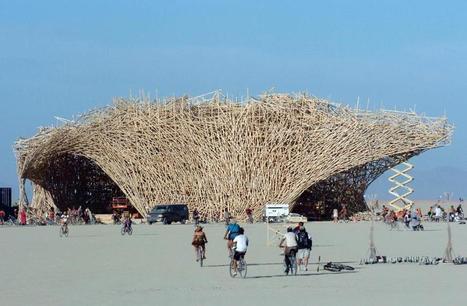 Conceptual artist Arne Quinze
designed a 15-story structure
named "Uchronia" at the Burning Man festival
in Black Rock City, Nev., in 2006.
The structure, which was quickly dubbed
"The Belgian Waffle," was burned during the closing hours of the annual event.
A 60-foot-tall piece of scaffolding wouldn't ordinarily draw much attention, but in the summer of 2010, more than a half-million people went to marvel at just such a thing: Doug and Mike Starn's "Big Bambú: You Can't, You Don't, and You Won't Stop." Consisting of 7,000 bamboo poles continually hand-tethered by a crew of climbers into a humongous wave form, the temporary structure on the roof of New York City's Metropolitan Museum of Art offered visitors a spectacular view overlooking Central Park. In a matter of weeks at the 2011 Venice Biennale, another version of Big Bambú spiraled up out of the water over the Grand Canal. At Rome's MACRO in 2012, a third installation by the Starns spiraled to a vertiginous height of 130 feet and featured a double-helix staircase leading up to an auditorium that could accommodate 50 guests—suspending them high above the eternal city using nothing but sticks and rope.