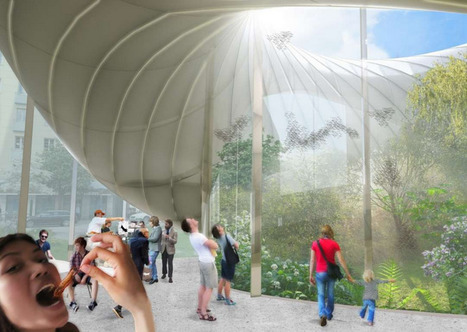 By 2050, it is estimated that the world's population could reach up to 9 billion people. It's already become increasingly difficult to sustain our food systems, as we outgrow our supply and continue to deplete farmland. So what is the answer to this frightening dilemma?
Belatchew Arkitekter came up with a shudder-worthy solution: bug farms.
The Swedish firm has designed an alternative to Stockholm's protein production problem by developing a way to farm large quantities of edible protein within the city's fabric. "Buzz Buildings," named in part because of the insects that will call the donut-shaped structures home, are also inspired by the beautiful soundscape created by the thousands of crickets farmed there. In total, there will be nine round structures, skinned in a perforated steel exoskeleton, and located at nine different major intersections in the city. The buildings, 10,350 square meters of farmland, will ultimately be able to provide the projected 940,700 inhabitants of Stockholm by the year 2018, with plenty of bugs to sustain them.