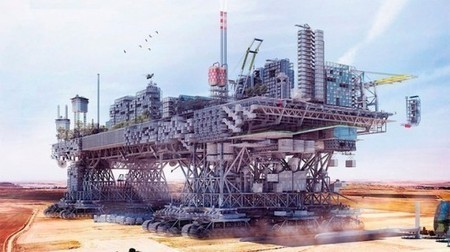 This Article by Avinash Rajagopal originally appeared in Metropolis Magazine as "Five Compelling Works of Architecture Fiction". Rajagopal argues in favor of the often dismissed genre of 'architecture fiction', giving five recent examples of the best the field has to offer.
As far as we know, the writer Bruce Sterling coined the term "architecture fiction," in 2006. He was referring, of course, to speculative projects in which architects use ideas for the built environment to express themselves in a way that's analogous to how storytellers use words. It's a longstanding architectural tradition. Sterling cites the polemic work of the 1960s British group Archigram; the canon includes Lebbeus Woods's drawings from the two decades that followed and Greg Lynn's digital imaginings (one of which accompanied a short story by Sterling, in Metropolis's 2003 Fiction Issue).
In the last few years, we have seen a groundswell in the genre. The usual reason given to explain the profusion of these fictitious works is that the recession made it hard for young architects to find "real" work, but there are probably other factors at play. Ethical concerns are back in the zeitgeist for a contradictory generation that's equally into Occupy Wall Street, iPhones, and hipster shops selling single-source coffee. Their utopias and dystopias are more easily imagined with 3DS Max and Photoshop, and far more quickly disseminated online. All of this has made for some pretty rich storytelling.