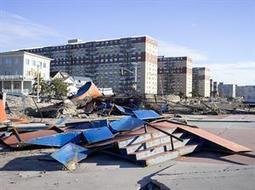 An ideas competition launched at the Clinton Global Initiative calls for better design to reduce damage caused by natural disasters.
"This competition is not about replacing what was lost, but building back something that is better," said AIA President Mickey Jacob, FAIA, in a statement. "Architects are uniquely qualified for this task."
In order to be in the running for one of the $10,000 cash prizes, entries must have had input from a licensed architect. In addition to prize money, any entry that meets the competition requirements will be entered into a portfolio of house designs to be used later as a reference for sustainable and resilient design.
Designing Recovery will add to the ongoing projects already set in motion by these organizations, includingthe Frank Gehry–designed Make It Right house in New Orleans's Lower 9th Ward and the St. Bernard Project's efforts to link out-of-work veterans with jobs in hard-hit areas such as Rockaway, N.Y.
"Every city can learn from the successes and failures of these three cities and their response to disaster," Eric Cesal, director of reconstruction and resiliency at Architecture for Humanity said in the release. "Designers and architects have a responsibility to do more—and to do better."