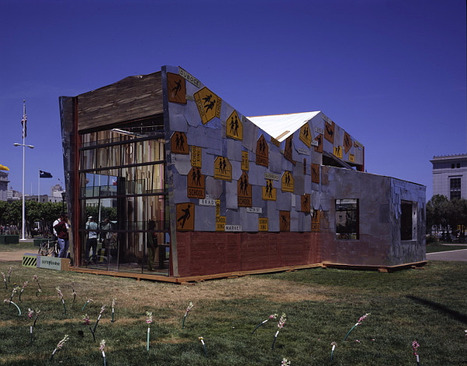 For years, a rare breed of projects—designed for the public good—has earned acclaim and even a minute amount of actual criticism in design publications worldwide. Think bus shelters, community gardens, mobile clinics, street art, and the like. Many such projects are featured in this exhibition, or would have qualified to be included in it, since they intervene in social systems, often spontaneously.
This was absolutely the case with ScrapHouse, a temporary demon­stration house made entirely of garbage, designed in 2005 by Public Architecture, the nonprofit where I used to work. The house was built in front of San Francisco City Hall in conjunction with World Environment Day.
To be generous, it was a stunt, and the process was challenging. As I traveled throughout the United States, speaking about ScrapHouse in the months following its short-lived existence, I often introduced the project in apologetic terms. This was a house that no one would ever sleep in, set in a city where hundreds or thousands of homeless people sleep on the street or in shelters each night.
Via
Manu Fernandez