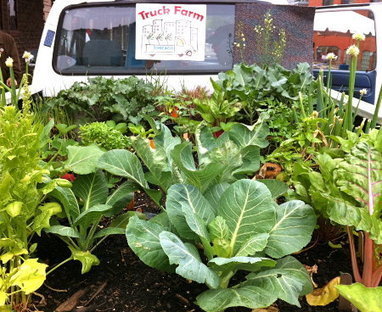 A literal food truck expands the creative arsenal of urban agriculture.
If the Lorax were to ever actually award a "Certified Truffula Tree of Approval" to a moving vehicle, it'd be a lot more likely to go to a garden-toting truck that brings farms to schools than to a Mazda SUV.
A literal "food truck," Truck Farm Chicago is a nonprofit organization that uses a 1994 Ford F-250 named Petunia to chauffeur a miniature farm. The project, which revved into gear on Earth Day, is a collaboration between sustainable development nonprofit Seven Generations Ahead and eco-friendly book-printer Green Sugar Press, a recent GOOD Maker finalist whose co-founders Shari Brown and Tim Magner were inspired by King Corn director Ian Cheney's first truck farm in Brooklyn, NY...
Via
Lauren Moss