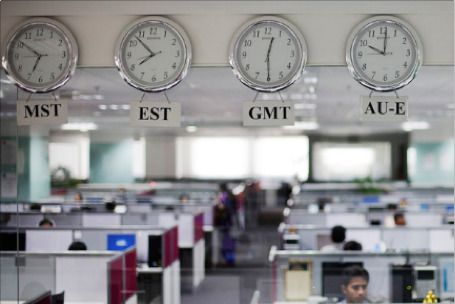 One of the most controversial economic practices today is outsourcing, or the transfer of industrial business processes overseas. Offshore outsourcing is "not always a negative thing", as the title of CBC Canada's article suggests. The prompt for the article is the outsourcing issue involving the Royal Bank of Canada, which leads to thoughts about where outsourcing can have positive and negative effects, and for who. In particular, small businesses benefit the most from outsourcing, as any one company is able to capitalize on efficiency abroad. For instance, consider a small Toronto media business, Majestic Media. While strategy and sales are handled in Toronto, creative and technological development occurs in Latin American countries such as Argentina, and even in European countries like Poland. According to a professor at Ryerson in Toronto, outsourcing can lower costs by 30 to 40 percent, which acts as the primary motivation for outsourcing. The article proceeds to cover how outsourcing can maximize efficiency through low costs and high returns, while also discussing responsibility in business and location-specific specialty companies.
Outsourcing and its effects on the world connect to several themes of economic geography, including Weberian Theory, site factors, and Wallerstein's model. On a global scale, outsourcing is representative of the change in distribution of the world's service sector, and of changing location factors. According to Alfred Weber's Least Cost Theory, industries located themselves so as to maximize profits, which is exactly what happens with outsourcing. Weber also asserts that labor is the most important site factor, as low labor costs have clearly convinced many companies to bank on foreign labor. Furthermore, transport costs are also kept at bay, with ship transport being the most cost-effective method of moving goods. Now, consider the example of Majestic Media in Toronto. According to Wallerstein's theory of Core-Periphery, countries in the economic periphery of the world (less-developed) supply labor for the core countries (most developed), which purposely orient themselves to take advantage of low labor costs. The company in the example executes its strategic planning in Toronto, but uses Latin American and European technopoles (agglomerated high-tech centers) to produce the best technological results.
As suggested at the end of the article and by the example, the need for outsourcing is ultimately determined by a company's needs in manufacturing and specialized labor. If companies continue to outsource responsibly and ensure that national jobs are not compromised, outsourcing may not be as negative as so many have considered it to be.
(Kazia, Alexandra. CBC News Canada. April 13th, 2013. May 21st, 2013.)
Via
Adam