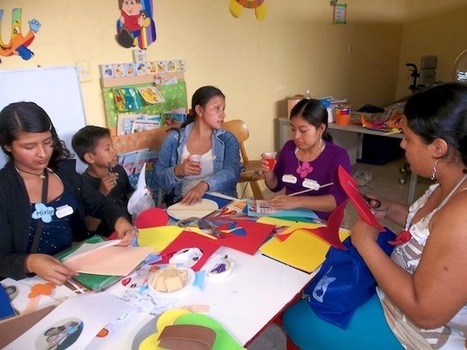 The reason for the creation of this workshop is the health situation of children affected by cerebral palsy and other associated disabilities.
The workshop was conducted with a group of ten mothers, and focused on improving their self-esteem. To do so, we practiced relaxation techniques and devoted time to listening to our feelings and emotions, reflecting on how our lives have been with our children, and the impact on our families.
The group of mothers, who attend the centre for physical therapies and stimulation, face many obstacles in their daily lives, amongst them the health of their children, the lack of support for their families, inadequate medical attention and difficulties in relating to their surroundings. All this amounts to a heavy burden resting on these women.
During the workshop, the women expressed the love which drives them to carry on for their children, this immense love which comes from a superior source to which the women turn day after day: from God, who gives them strength to keep on fighting for the progress of their children. The workshop also provided an opportunity for women to exchange experiences with other mothers, who have older children, and to discover that they share the same values, such as hope, patience, tolerance, responsibility, joy and above all, love.
The participants made posters displaying these values to share with their families. Now, they take part in the therapies and have become more willing and expressive, with the promise to return in the future for another workshop.
http://www.uneoptiondeplus.org/?discover_the_ngos/melvin_jones