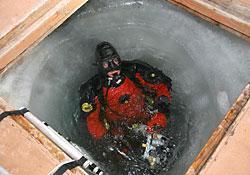 Nuclear Reactor Diver
After nearly three decades, Charlie Vallance is used to the raised eyebrows and gasps of surprise he gets when people learn what he does for a living-diving inside nuclear reactors. "The typical reaction is, 'You dive where?'" says the general manager of technical services at Underwater Construction Corporation in Florida.
There are 104 nuclear power plants in the United States, and they all depend on water-lots and lots of water-to drive the turbines and create energy, to keep the reactor core from melting, and for emergency cooling in case of an accident. Some of the suppression pools contain more than a million gallons of water. "Most of these tanks are made of carbon steel, and we have to inspect and maintain them-maybe do the odd weld repair or replace the coating if it's starting to rust," Vallance says.
He began his atomic journey as a recreational scuba diver in 1965 and did some freelance commercial diving in college before joining the Marines. He eventually got his commercial diving certification and went on to work as director of the underwater technology program at the Florida Institute of Technology, before joining UCC to service nuke plants.
"In truth, it sounds a lot more exciting and dangerous than it really is," Vallance says. "Water is a very effective radiation shield. Just two feet gives you the equivalent protection of two to four inches of lead." Most of the areas the divers work in tend to be shallow, in the 10- to 15-foot range, but there is some deeper work in 40-foot pools or at the 80-foot levels near the bottoms of reactors. "Because water is such a good shield, you can actually dive inside the reactor vessel and work near spent fuel bundles."
But radiation can and does kill, so Vallance's divers wear multiple radiation badges on every dive and use a telemetry system that sends real-time readings to tenders. Each diver is limited to a cumulative radiation exposure of 1,000 millirems per year. To put things in perspective, the average U.S. citizen absorbs 200 millirems of radiation annually from naturally occurring radon gas, and gets a 50-millirem dose with every diagnostic x-ray.
When they dive uncontaminated water, Vallance says, their gear is pretty similar to what recreational divers use, except for the radiation sensors. Diving contaminated water is a different story. "We wear vulcanized rubber dry suits-helmet connected-and use positive-pressure, surface-supplied air." At the end of each dive, technicians wash down the divers and gear, check everything with meters, then wipe down everything with special pads that can check for contamination. The whole process can take up to half an hour. "This kind of diving takes a lot of patience," Vallance says. "A task which would take one day outside a plant can take a week on the inside."
Any fatalities? "I can't think of a single death of a diver working inside a nuclear power plant," Vallance says, "but I know of at least eight deaths from divers working outside the plants, in the intake pipes and turbines. Guys get drowned. Guys get crushed. That's where the real danger is.