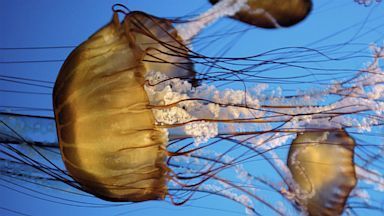 A rare type of jellyfish may have gone on a stinging spree at a Laguna Beach, Calif., beach.
A number of Fourth of July swimmers came ashore with stings all over their bodies and dark... membranes latched onto them, according to the Orange County Register.
The dark color of the membranes indicated that the creatures might be rare black jellyfish, according to the Associated Press.
The species was identified in 1999 and only recently appeared in Southern California, the AP reported. Their tentacles can grow to up to 30 feet long.