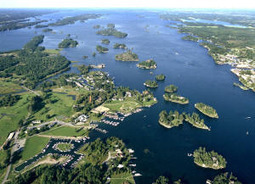 The 1000 Island Region is the the gateway of exploration and commerce from the
Atlantic to Lake Superior for the St. Lawrence Seaway System. At 2400 miles
long the St. Lawrence Seaway System is is the longest inland waterway at in the
world. Over the last 400 years the mighty St. Lawrence River has claimed
hundreds of schooners, barges, paddlewheelers and freight carriers. Earth,
wind, fire, snow and ice have all claimed their fair share of these wooden and
steel vessels.