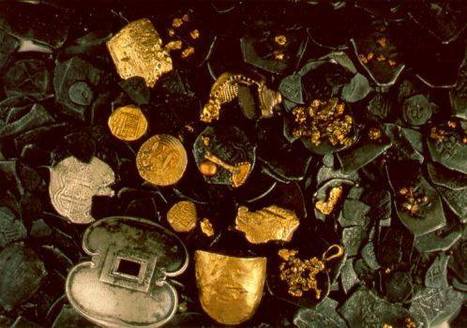 World's only real pirate treasure dug up and coming to Galveston..
The most valuable haul of pirate treasure ever found is heading to Galveston for an exhibit showcasing dozens of cannons, coins and muskets. The ship, the Whydah, sank off Cape Cod in 1717 under the command of notorious pirate Black Sam Bellamy. It was carrying tens of thousands of gold coins earned from selling slaves in the Caribbean.
Forbes estimates the ship's 200,000 artifacts, which include African jewelry, muskets, gold belt buckles and 60 cannons, to be worth more than $100 million. The ship is the only authenticated pirate ship ever to be found. "When people see it, it's like they are looking at the only T. Rex ever to be found," said Barry Clifford, who discovered the ship and is therefore the owner of all the treasure. "It's the only pirate treasure in the world."
Clifford started looking for the ship in 1982 after hearing stories about the wreck growing up as a child. One-hundred eighty pirates died when it sank. Eight survived and were tried in Massachusetts.