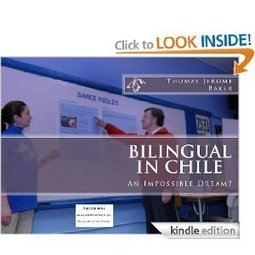 Bilingual in Chile: An Impossible Dream? Bilingual in Chile: An Impossible Dream? [Kindle Edition] Book Description Publication Date: October 30, 2012 "We have some of the most advanced commercial accords in the world, but that is not enough," Sergio Bitar, the minister of education, said in an interview here.

"We know our lives are linked more than ever to an international presence, and if you can't speak English, you can't sell and you can't learn." The initial phase of the 18-month-old program, officially known as "English Opens Doors," calls for all Chilean elementary and high school students to be able to pass a standardized listening and reading test a decade from now.

But the more ambitious long-term goal is to make all 15 million of Chile's people fluent in English within a generation. "It took the Swedes 40 years" to get to that point, said Mr. Bitar, adding that he sees the Nordic countries and Southeast Asian nations like Malaysia as models for Chile.

...