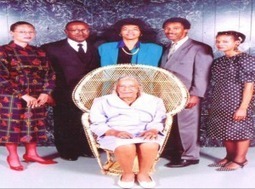 ** Hi, dear Reader(s). I hope you are having a great day. Soon it will be Christmas Day. Are you excited about that? I know I am, and I hope you are too. Today, I'm continuing an EdCamp tradition of presenting the members of the organizing committee. When you ask me why it is important to do such a thing (after all, who cares who organizes the event), I could give you several answers, but I will tell you what I believe is the most important answer:

Volunteers. #EdCamp Santiago Organizing Committee Members are all volunteers. They receive no pay, nothing at all, for their service to their colleagues, and ultimately, their service to their profession.

That's right, what they do is sacrifice their family time, their social time, their free time in which they could be doing something else they enjoy, in order to ensure you have a great experience at #EdCampSantiago.

They are optimistic, idealistic, altruistic people.

They are highly motivated, dedicated people.

They actually believe that one person can make a difference in the quality of education the sons and daughters of Chile receive.

...