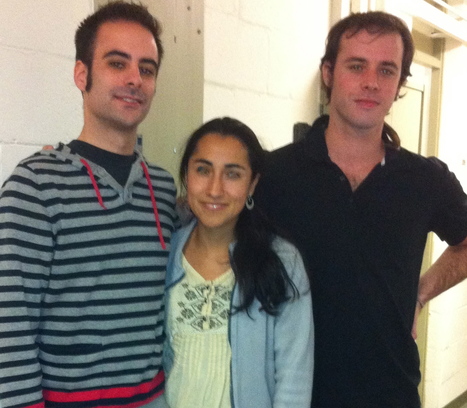 On Nov. 14, BORJA GAMA DE COSSIO defended his thesis entitled _Can I Be Forgiven? Expressing Conversion through the Eyes of Mary Magdalene: Lope de Vega and Richard Crashaw_ (dir. Albert Lloret). Borja's work examines the image of Mary Magdalene in the poetry of Lope de Vega and Richard Crashaw through Baroque aesthetics. Being the perfect example to convert, Mary Magdalene will serve both Lope and Crashaw as their literary device to represent their own conversion; the former from a licentious life to becoming a priest at the end of his life, and the latter from a Puritan background to a total devotion to the Catholic faith.
On Nov. 30, CLAUDIA PAEZ LOTERO completed her Master degree with the thesis _Estructuras desbordantes en Silvina Ocampo: Invenciones del Recuerdo_ (dir. Margara Russotto). In _Estructuras desbordantes en Silvina Ocampo_ Claudia argues that the long poem "Invenciones del recuerdo" (2006), written by the Argentinean Silvina Ocampo (1903-1993) exceeds its own material limits in order to occupy other texts. Through its extensibility, comparable to a river that overflows its banks, Silvina Ocampo's long poem establishes a dialogue with several short stories and poems written by her with the purpose of revealing essential concerns and characteristics of her writing.
Yesterday, Dec 3, GORKA MAIZTEGUI defended his _Análisis del proceso de adaptación de Las galas del difunto de Valle-Inclán_ (dir. Barbara Zecchi). Gorka's thesis focuses on the formal devices that Azcona and José Luís García Sánchez display in the film adaptation of _Las galas del difunto_, a theater play included in _Martes de Carnaval_, published in 1930 by Ramón María del Valle-Inclán. Framed within the state politics of cultural promotion, _Las galas del difunto_ was released for television consumption, thus, its characteristics are very relevant in order to analyze the priorities and strategies developed in the adaptation process. Not only does the main obstacle remain in the fact that the original play is difficult to represent in theater (mostly due to its secondary text), but also the metatextual dimension of Valle-Inclán's texts. Valle Inclán'scomplex collage crashes with the naturalistic tendency of audiovisual representation and offers a wide variety of open fronts that appeal directly to the adaptation concept.
Congratulations to the three of them!!!