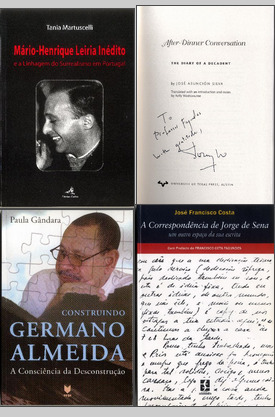 José Francisco Costa (PhD 2002). Professor of Portuguese, Bristol Communicty College, MA. Published his dissertation A correspondência de Jorge de Sena: um outro espaço da sua escrita (Lisboa: Edições Salamandra, 2003).
Richard Kelley Washbourne (PhD 2002, Francisco Fagundes and Nina Scott, Co-Chairs) - Associate Professor, Institute for Applied Linguistics, Kent State, Ohio. Published his dissertation After-Dinner Conversation, a critical translation and introduction of De sobremesa, the 1896 novel by José Asunción Silva (University of Texas Press's Pan-American Literature in Translation series, 2005).
Paula Gândara (PhD 2003) – Associate Professor of Lusophone Studies, Department of Spanish and Portuguese, Miami University, Miami, Ohio. Published her dissertation Construindo Germano Almeida (Lisboa: Nova Vega, 2008).
Tania Martuscelli (PhD 2006) – Assistant Professor, University of Colorado at Boulder. Dissertation: "A poesia portuguesa dos anos 30 aos anos 70: Mário-Henrique Leiria Inédito." Has published Mário‐Henrique Leiria Inédito e a Linhagem do Surrealismo em Portugal (Lisboa: Colibri, 2013).
António M.A. Igrejas – (PhD 2013) Mellon Foundation Lecturer in Portuguese, Wellesley College/MIT. Dissertation: "Os grão capitães como sequência de contos: paratextualidade, imagética e os contornos de um género literário". Co-editor with Francisco Fagundes and Susana Antunes of Trinta e Muitos Anos de Devoção: Estudos Sobre Jorge de Sena em Honra de Mécia de Sena (Guimarães, Portugal: Opera Omnia, in press).