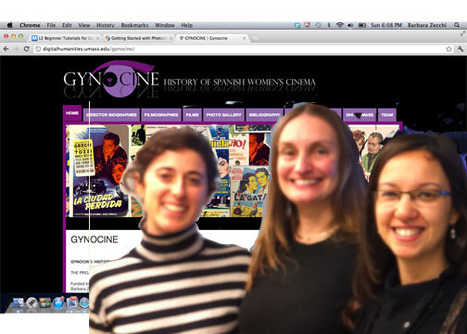 Dec. 10-- On Friday Prof. Barbara Zecchi and her advisees Eva París and Irene Melé presented GYNOCINE: HISTORY OF SPANISH WOMEN'S CINEMA in the Digital Humanities Lab at Umass Amherst.
Funded by a University of Massachusetts Digital Humanities Initiative seed grant, the goal of this project is to develop an open access online database on the History of Spanish Cinema by Women. The primary outcome of this project is offer unique resources related to the production of women directors in Spain. The database, at this initial stage, will illustrate the socio-historical context of the life of these filmmakers, provide their biographical information, give access to their work (or what it is left of it), to reviews, journal and newspaper articles, to interviews and to a bibliography of scholarly works on the topic.
The members of the team are: Barbara Zecchi, who designed the project and directs it; Irene Melé, who works on the film pioneers; Eva París-Huesca who is in charge of collecting information on contemporary filmmakers; José Madiedo who takes care of the technical aspects of the project; and Mikel Monleón who has designed the homepage.
URL: http://digitalhumanities.umass.edu/gynocine/
In the photo from left to right: Eva París-Huesca, Barbara Zecchi and Irene Melé.