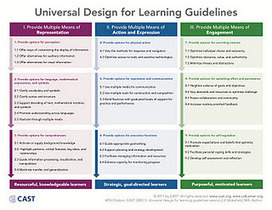 Stephen Petrucci has provided insight in how the Fine Arts are an important element when designing any content lesson using the principles of UDL. Here are a few comments from Stephen that drive that point home.
"I am reminded of how the four main disciplines of the Arts - Drama, Music, Dance and Visual Arts - allow for a variety of ways to engage in learning. Once again, this aligns clearly with the UDL framework of Multiple Means of Representation, Multiple Means of Expression and Multiple Means of Engagement."
"I am very passionate about the ability of the Fine Arts to activate learning. Neuroscience backs this up and most importantly, so does the feedback and experience of our students. Furthermore, educational research tells us that student achievement increases with the integration of the arts."
"If you want to bring joy to learning AND improve student achievement, support and advocate for the Fine Arts in your school and district."
Thank you Stephen in providing an important perspective on how the Fine Arts are UDL!