Scoop.it!
Summary Of the Tuskegee Airmen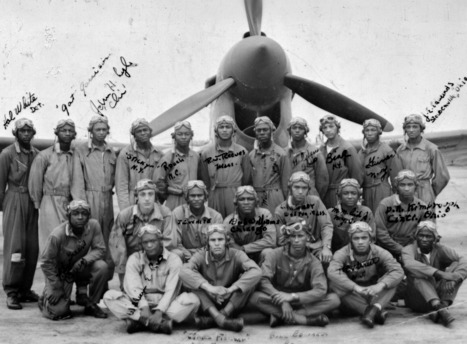 Dondre Kimbley's insight:
Tuskegee Airmen were some educated and dedicated young men. They had volunteered to be Americas first black military airmen. The road for them was very rough, lots of them were not allowed to become airmen. They had to meet the qualifications mentally and physically. From 1941-1946 1000 pilots were trained at Tuskegee, which was in Europe Russia and Asia. People would spend over half they day everyday in a wooden chair to train mentally to be a Tuskegee airman. They were really dedicated to what they had put their minds to do.
The Tuskegee Airmen did not have it easy at all. They were very determined throughout the process and training. For example in 1917 they tried go just become aerial observers and got denied because of their race and others thought they were not capable for the duties. This did not stop them they kept working and now look at them down in history as the first ever-black military airmen.
Franklin D Roosevelt did not like this at all about them being denied because of their race. He had felt there should be no discrimination in jobs or the line of defense, especially if you are capable of performing the job/task. So to demand equality through everyone he wrote a letter saying there will be no discrimination through evidence of available and need men not being able to get the employment because of their culture, race or creed.
So thanks to their hard determination and President Franklin D. Roosevelt the Tuskegee Airmen went down in history as the first ever black aerial military men. Also as some of the best ever military men.