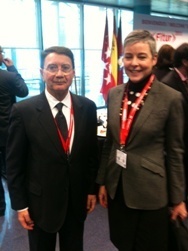 The Executive Secretary of the Enlarged Partial Agreement on Cultural Routes, Penelope Denu, met Talib Rifai during a series of meetings at the World Tourism Organisation in Madrid on 29 and 30 January.
The two organisations decided to formalise their cooperation during the Advisory Forum of Cultural Routes in Colmar last November. The UNWTO has offered technical advice on training and on the tourism development of the routes.
In Madrid, common priorities were identified with the Secretary-General, in particular the promotion of responsible tourism and sustainability policies. The UNWTO Global Code of Ethics for Tourism will be the object of a joint initiative and training on cultural routes will benefit from the contribution of the UNWTO Themis Foundation.
Via
Thomas-Penette Michel