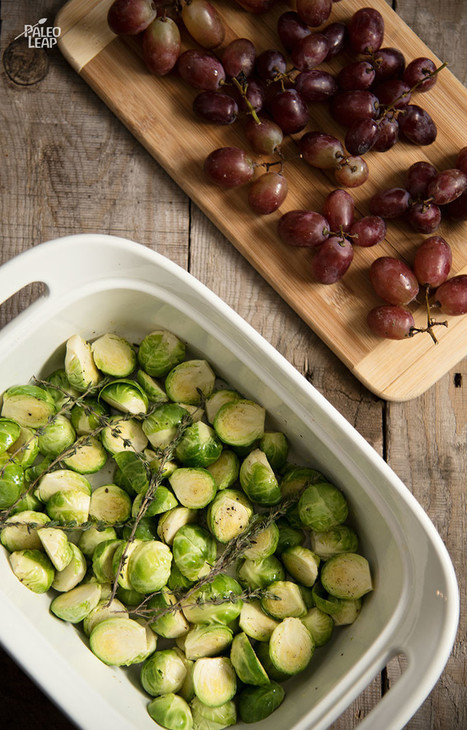 Roasted Brussels Sprouts with Grapes


Print Friendly

Sign up to our mini-series for beginners:

Roasted Brussels Sprouts with Grapes

Roasted Brussels sprouts are a winter-holiday classic: add a unique twist by combining them with juicy grapes, roasted right on the stem. Roasting the grapes concentrates the sweet flavors – if you like Brussels sprouts with a honey or maple syrup glaze, you'll probably like this. Add a quick herbal garnish and some balsamic vinegar, and the flavor gets even better.

The wine-colored grapes and dark green Brussels sprouts would match any holiday table, but this would also go nicely with a regular roasted chicken, even if you just put some salt and pepper on the bird and throw it in the oven. Add an ambitious side dish, and suddenly the whole dinner is fancier even without a lot of work on the protein.

For all your cooking-for-relatives needs, this side is vegan as-is; if you need something AIP-friendly, you could just take out the walnuts. It would be an interesting way to contribute a vegetable dish that people will be excited to try, or just to pep up the holiday table with something a little different this year.
Roasted Brussels Sprouts with Grapes Recipe

Servings SERVES: 4Preparation time PREP: 15 min.Cooking time COOK: 45 min.
Share

Ingredients

4 cups fresh Brussels sprouts, halved;
2 cups seedless red grapes;
2 tbsp. fresh thyme;
½ cup walnuts, coarsely chopped;
1 tbsp. balsamic vinegar;
2 tbsp. olive oil;
Sea salt and freshly ground black pepper;

Brussels Sprouts preparation
Preparation

Preheat your oven to 400 F.
Combine the Brussels sprouts and grapes in a bowl.
Drizzle the Brussels sprouts and grapes with olive oil, balsamic vinegar, fresh thyme, and salt and pepper to taste.
Transfer to a baking sheet or pan, and roast in the preheated oven for 30 to 35 min.
Sprinkle with chopped walnuts and roast another 8 to 10 min.
Serve warm.

P.S. Have a look at Paleo Restart, our 30-day program. It has the tools to let you reset your body, lose weight and start feeling great.