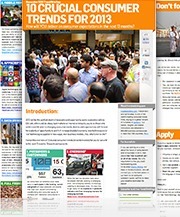 Some stats:
The percentage of global consumers who trust business to do what is right fell from 56% in 2011 to 53% in 2012 (Source: Edelman, January 2012).
The proportion of people saying brands making a notable positive contribution to their lives is around 8% in European markets, and 5% in the US. Interestingly, the comparable figures in in China and Latin America are 57% and 30% respectively (Source: Havas, February 2012).
69% of US consumers said they are more likely to buy from a brand that talks publicly about its CSR results, versus the 31% who would purchase from a brand that talks about its CSR mission and purpose (Source: Cone Communications, October 2012).
Only 44% of Americans trust companies' green claims (Source: Cone Inc., March 2012).