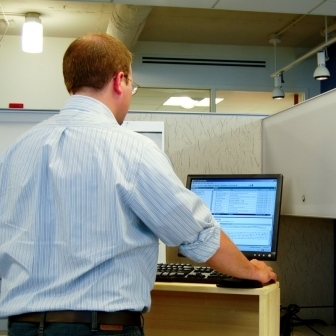 By now you know you probably know that sitting down all day is terrible for you. Who needs scientists to tell you that sitting for even one hour causes the production of fat-burning enzymes to decline a whopping 90%, or that more than four hours of desk time each day raises your risk of a heart attack by more than 100%?
You can feel exactly how crappy sitting all day makes you feel at the end of each workday. (Though you may be shocked to learn that being a regular gym-goer doesn't protect you from the harmful effects of all that sitting.)
The solution, according to recent articles in the New York Times and Wired, is simple: Get a standing desk. You'll join good company, they point out, as Leonardo da Vinci, Ben Franklin and Winston Churchill among many others worked standing up, and vastly improve your health.