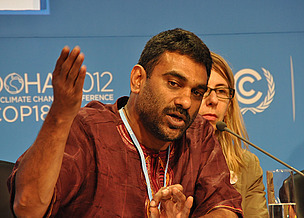 Today, as the UN climate talks entered their final hours, six of the largest environmental and development organizations in the world issued an emergency call to all governments about the conclusions of the Doha climate talks.
ActionAid, Christian Aid, Friends of the Earth, Greenpeace, Oxfam and WWF issued a statement saying the Doha talks were on the brink of disaster and that rich governments had 24 hours to urgently make a deal that reflects the scale of planetary emergency facing humanity. This deal must include scaled up public climate finance from 2013, deep emissions cuts and a mechanism to address loss and damage.
The NGOs were joined by Yeb Sano, Commissioner for Climate Change of the Philippines; Emmanuel Dlamnini, Chair of the African Group of Negotiatiors; and Pa Ousman, Chair of the Least Developed Countries Group.
The statement was released following an open-letter to negotiators and ministers that was issued by social movements from across the developing world, and which the organizations supported and distributed at the press conference.