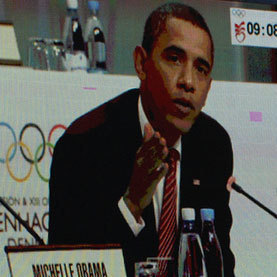 President Obama's election to a second term means America can "push the reset button" on the turbulent U.N. climate change negotiations, World Resources Institute President Andrew Steer said yesterday.
Steer, who served as the World Bank's climate change envoy before joining WRI in August, said it is time for the administration to show "real leadership" on climate change. Others called on U.S. diplomats to embrace the goal of keeping global average temperatures below a 2 degrees Celsius rise over preindustrial levels and to show how they intend to cut carbon at home.
"I think history will judge any president from now onwards not to have succeeded if he doesn't really grapple with this issue seriously," Steer said. "We really have an opportunity now to push the reset button with regards to the negotiations."