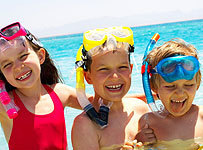 Parents who stick to the rules and don't take their children on holiday in term-time can end up paying almost double for their trip, researchers warn...
For example, one week-long trip in Portugal cost 86% more in August, than it had done the month before, in term-time.
The price of foreign breaks increase by an average of 38% in August, Santander Cards found. But tourists who stay at home are penalised too, with a rise of 30%.