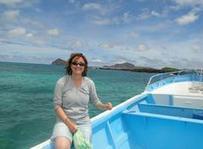 Child Care / Nursery in Santa Cruz:
Volunteer at a community run day care /nursery center in Santa Cruz. The children range in age from infants to 5 years old. There are approximately 100 children at this center daily. The program provides feeding and integral education to aid some of the poorest families on the island. Many of the children at this center have single mothers who cannot pay for day care while they are working. This is a safe haven for parents to take their children.
Project hours are 7:30am - 4 pm daily. Volunteers are provided lunch at the center. Volunteer tasks including changing diapers, upkeep duties at the facility, kitchen help, recreational and educational needs for the older children. This is a fast paced, active program with a lot of daily activity.
Education / Teaching in San Cruz:
Volunteers have the opportunity to teach conversational English at a public school in Santa Cruz. The school has over 650 children from 4 years to 14 years old, in the areas of pre-school up to primary 7th grade. Volunteers will help in areas of English lessons, recreation and also developmental needs of the children. Classes are held Monday to Friday from 7:00am to 1:00pm.
Opportunities also available in a multilingual education facility that was created in order to give educational services to the children from the islands, especially for those that have migrated from the indigenous communities with their families. School has 30 pre-school students and 100 children in basic education. Ages 4yrs to 11 years old.
Volunteers are assisted by the local teacher, and focus is on language comprehension and speaking. Volunteers should come with basic lesson plans for teaching numbers, letters, basic salutations, colors.
Environmental / Animal Welfare in San Cristobal:
Volunteers have the opportunity to support the conservation efforts and wild life on the Galapagos. This program focus is sea turtles, marine iguanas and sea lions. Volunteers help with conservation needs such as animal monitoring and tracking reports, beach patrols, recording on new births, as well as working in the Galapaguera greenhouse. This program lets you do a little bit of everything pertaining to providing support of sustainable conservation efforts on the Island. This is a great opportunity to discover the wonders and wild life of the Galapagos by offering hands on contributions to their sustainability.