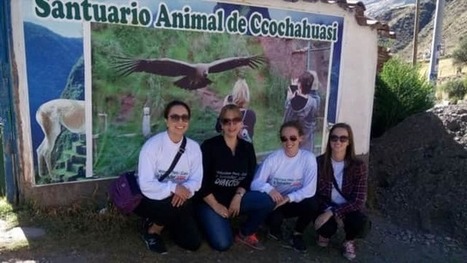 Review Volunteer Patricia Martinez in Cusco Peru at the orphanage program

1- How was the local ABV Coordinator/staff and the support provided in-country?From the moment I arrived in a country I had never visited Maria Elena welcomed greeted me at the airport with a sign and we took many photos and selfies to commemorate my arrival! What a great welcome after having my flight delayed an entire day and spending the night in the Dallas airport on a cot. I arrived a day later than planned but Maria Elena helped me get settled took me straight to home to eat and drink after my long flight. She helped me get settled I met the other girls I would be staying with for my week in Cusco. Right away she wanted to know aside from my volunteer activities I had planned what else I wanted to do in Peru and had some great recommendations and connections to get me set up for Machu Picchu and city tours during my short stay. That was the first order of business the next day to see the city a bit and get an idea of the city as well as book my adventures for my off time in the weekend that would follow my week of volunteering. This was a great idea as I had this booked and arranged and had something to look forward to all week.
Over the course of the week we (myself the 2 other ABV volunteers and Maria Elena) had time to eat together and chat as well as connect with Maria Elenas friends and family (daughter and so in law) she introduced us as her other daughters which was such a warm and loving thing to do. Traditional Peruvian meals were prepared and each time we were given some background and even tips of preparation for these meals, something I plan to take home with me. I have food allergies and Maria Elena handled this wonderfully ensuring my meals did not have soy or dairy but still allowed me to enjoy what everyone else was enjoying only slightly modified, this was greatly appreciated!

2- What was the most surprising thing you experienced?
1) One surprising thing for me was around the language immersion program I signed up for. I was unaware what that actually meant but when I arrived it meant a formal classroom type class where I was taught Spanish with a 1 to 1 instructor. I assumed that I was only speaking Spanish while I was in Peru. This was not necessarily bad as I discovered I needed some classroom lessons to improve my Spanish however I would have enjoyed more time in the orphanage itself working vs. spending time in the classroom. Not a bad thing as mentioned but in the future I would like less time in a class and more time volunteering with the girls. With that said however my Spanish teacher was amazing and we married the classroom learning with city walking and exploring so it ended up working well, we even incorporated a zoo visit and salsa dancing as part of our time together which was really fun and so memorable!
2) Another thing I discovered is that similar to the 2 other volunteers that were staying in my home while I was here many people come to volunteer for longer duration of time like 1 month to 3 months like some other people I met while in the city. This is encouraging to me because I hope to stay longer in the future and do more work in the orphanage and other places.
Host Family:
1) My host mother had the same name as my mother and I have the same name as her daughter, funny and happy coincidence.
2) Another interesting thing that I learned is that the altitude affects the inhabitants of the city and how it operates. While I was here I noticed that breakfasts were light, lunches were enormous involving a few courses which were deliciously prepared. Dinner unlike the US were super light if nothing at all, tea and crackers maybe or some coffee but because of the altitude you do not eat too much late at night because your digesting is affected. I hope to take that habit of eating light or nothing at dinner home with me.
Country:
1) I learned how the educational system works in Peru as far as how attending university here works; the public university is free if you pass a test they have. Otherwise if you do not then your options are pretty limited unless you come from a family that can afford to pay for your schooling. For those who do not that really limits the types of opportunities that you can have in life.
2) History History History! The city is rich with history and ancient architecture and I learned so much about the Incan people and how they lived, what they believed and about many of their rituals. Living here for only a short week has helped me to only scratch the surface about the Incan civilizations and has sparked a great interest in me to continue to learn and read about their lives and plan another trip of course. I hope to do a 4 day hike to Machu Picchu at some point and visit other neighboring cities, still so much more for me to see and explore here.

3- What was the most challenging thing you experienced? Program: I think with any time I volunteer I feel helpless and overwhelmed at the need for so many things. At the orphanage in particular I only came in to help with the ceramics class and talk to the girls but I am always left with that feeling of what else can I do and how else can their needs as humans and young women be met? Can I send them clothes, can I write them letters, will I know what happens to them when I leave, how will their lives end up, what happens to them when they turn 18, must they leave? For me the most challenging was and is will be what else can I do? Host Family: Nothing was really challenging for me as every detail was handled and discussed every day. Maria Elena was good to have a quick check in at the end of the night to discuss the following day and outline our schedules so we knew what was going on. Country: The only real challenging thing for me was navigating the city on my own, not having a cell phone connection that was reliable so I could pull up google maps like I do in the US was tough. When I got lost I had to ask people for direction vs. being able to usually figure it out on my own. Perhaps having a paper map on hand would have helped me if needed in a pinch.
4- Any tips for future volunteers… (clothing, travel, personal items, donations)
1. My flight was cancelled/delayed so ensuring that you have the travel insurance is helpful.
2. Bring a jacket, I failed to recognize that it was winter here when I arrived and although much milder than my winters in Seattle the nights and mornings and some middays were very cold. Especially if you are doing any tours while here the climate may and probably will be colder depending where you go.
3. This is noted in our guide document but bring and take toilet paper with you as most toilets do not have.
5.1-Other things volunteers should know before coming here: (that is not in the orientation guide)
a. You will fall in love, with the people, the city, the culture, the food! b. Tourism is a big industry in the city, be wary of vendors who are attempting to make money off unsuspecting outsiders.
c. Your cell phone may or may not work, plan ahead and optimize internet time at your home if you have wifi (I did thank goodness) and or check restaurants and places that wifi is offered if needed
6- Personal Paragraph about the experience (ABV Program Testimonial): This was the first time I have done anything like this and at 37 I feel like I am way overdue. This is something that every person should do in my opinion right out of high school or right after college or at any stage of life really. What an amazing opportunity to combine visiting a new location seeing the sites of a new city with giving back to others. I knew I wanted to work with children and coming here I had no idea what age ranges I would get or whether they would be female or male. When I arrived I learned that it was an all girls orphanage ages from 11 to 17. In my mind I have a greater love for smaller children but without a doubt what I discovered is that these girls because they are not toddlers who usually get a lot of attention because of their age are ignored and are in greater need of the love and attention. This was the perfect mix for me, especially since I am a woman and was once a teenager myself I could see the desire to be accepted and struggles they faced as young women. This opportunity ignited a spark in me to seek out other young women who are in need of love and guidance and counsel in my own city as well as in Cusco and other places across the world. This is such a pivotal age for them and we have an amazing opportunity to speak into their lives right before they embark on their own journeys whatever that may be. This trip has changed me for the better, to do better, to be better and help empower others to also be better.
7- How would you describe your accommodation, meals, security, friendliness, quality others: I had my own room with a window and adjacent to the bathroom with plenty of blankets and a small closet to make my own while I was there. My meals were always prepared for me which were all deliciously prepared. There was always hot water on the table along with tea, coffee, cookies, breads etc for us to eat at any time of the day we needed. Even on the days I went on a tour and returned later there was still food ready for me to eat when I arrived home, so awesome! I was given my own key and was able to leave and return as my scheduled required. Maria Elena always made an effort to check in with me on my cell phone to make sure I was doing ok and if I needed anything, really nice and appreciated.
8- What was your favorite memory of this trip?: Program: One of my favorite memories will be sitting with the girls in the ceramics classroom listening to the sing songs on the radio and asking us to translate what the songs said. That same day they decided they wanted to dance, so we (me and Elle another volunteer) tried to dance with them which resulted in a lot of laughter. I saw myself in them and could relate so much, I will never forget that and hope and pray that they do well in their lives. Host Family: Having a big family lunch with Maria Elena and some family visiting one day, along with her daughter, and son in law and myself and 2 other volunteers. It was a feast of a meal and I felt like I was back home. Talk about language immersion, everyone was so interested in learning about us and us about them and all in Spanish and only a tiny bit of English. Country: Seeing the indigenous women in their native clothing, hats, back satchels carrying items or babies. I had never seen such a thing in my entire life and when I went on different Incan tours I could see them carrying lumber or different things, it made realize how lazy I am as an American and how ungrateful I have become for all of my luxuries that make my life so easy. I hope to walk more when I return home and not take some of these things for granted.
9- How was the ABV USA support prior traveling? (who helped you, emails, phone calls, chat online, how fast did you got an answer, did you got all your answers) I can honestly say that support was super smooth, I think I only had to send one email to ask something and the response was fast within one day. When my flight was cancelled and then delayed by a day I called the number on my guide and was answered immediately by someone who told me they got my info and would pass it to my host family and keep her updated. All went well when I arrived all smoothly handled.
9.1- What do you think about the reservation system online? Super easy, no glitches and straight forward with the tabs telling me what else I had left to do.
9.2- Who did you find Abroaderview website (keywords, search engine, word mouth to mouth, recommended by .., other) I just googled mission trips and came upon the website. I liked the option to filter by causes such as children and regions of the world, it helped make my selection super easy.
10 – Are you willing to speak to other potential ABV volunteers? Yes! Absolutely! Especially those in my age range but any age too