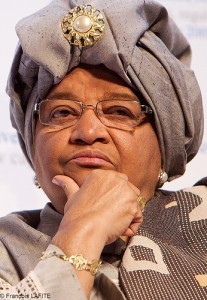 Ellen Johnson-Sirleaf won by a landslide, according to early results. But will she be able to unite a badly divided nation?
President Johnson-Sirleaf has a difficult road ahead in Liberia.
It looks like Liberia's President Ellen Johnson-Sirleaf won a second term in a run-off election this week, but only time will tell if the divisions that became apparent during the election will continue to haunt the country.
On Friday early results show Sirleaf won 90.8 percent of the votes returned, a landslide victory against her opponent, Congress for Democratic Change (CDC) leader and opposition candidate Winston Tubman. On October 11 Sirleaf won nearly 44 percent of the first round vote and Tubman took around 33 percent, but Sirleaf didn't pass the 50 percent threshold needed for outright victory—leading to a run-off election this past Tuesday. Tubman had said he would only participate in a second round vote if it were delayed by two to four weeks and if counting procedures were amended.