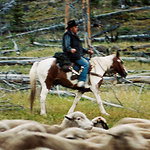 Faculty members and students at the Sensory Ethnography Lab at Harvard are trying to create films that reflect the messiness of life.
TUCKED within the syllabus for a class that the filmmaker and anthropologist Lucien Castaing-Taylor teaches at Harvard is a rhetorical question that sums up his view of nonfiction film: "If life is messy and unpredictable, and documentary is a reflection of life, should it not be digressive and open-ended too?"
Straddling academia and the art house, Mr. Castaing-Taylor and his associates and students at the Sensory Ethnography Lab at Harvard have been responsible for some of the most daring and significant documentaries of recent years, works that — not incidentally — challenge the conventions of both ethnographic film and documentary in general.
Documentary, as practiced in this country today, is a largely informational genre, driven by causes or personalities. The ethnographic film, traditionally the province of anthropologists investigating the cultures of others, is in some ways even more rigid, charged with analyzing data and advancing arguments. In both cases the emphasis is on content over form. What tends to get lost is the simple awareness that film, unlike a pamphlet or an academic paper, is a medium ideally suited to capturing the flux of lived experience....
Via
siobhan-o-flynn