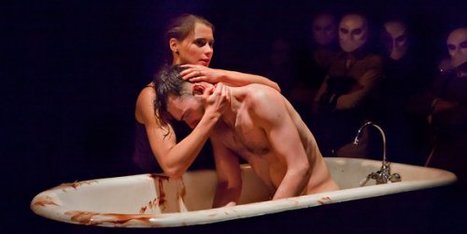 What happens when a production company stages an interactive theater experiment? It starts to resemble a video game.
Believe it or not, I do listen to podcasts about subjects other than video games. For example, the Freakonomics podcast is one of my regularly weekly downloads. However, this isn't to say that I'm not still thinking about games while listening to a supposedly unrelated topic. Case in point: the recent episode called "Fear Thy Nature".
The show, like all Freakonomics episodes, was about trying to figure out what influences human behavior. This particular episode looked at how our social environments impact our actions and devoted a significant chunk of time to discussing an interactive theater production called Sleep No More. Freakonomics framed Sleep No More as a bold experiment in socialization and storytelling, and I have no doubt it is very impressive both as a piece of theater and in its relation to social science tests like the Stanford Prison Experiment. However, as someone familiar with video games, many of the statements made in the podcast (some of which I've included here) sounded very familiar.
"An immersive, interactive theater piece," - Stephen Dubner, Freakonomics Co-host
Right away, two of the most frequently used video game watchwords are invoked to describe the play. Regardless of genre, games require active participation and attention to unfamiliar guidelines. Sleep No More requires the same type of engagement by asking audience members to piece together a retelling of Macbeth by exploring a multi-room building....
Via
siobhan-o-flynn
,
Dr. Pamela Rutledge