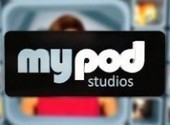 In this article, Jeremy Scott interviews CEO & founder of MyPod Studios, Jay Miletsky, on how they have rapidly built a large audience in a short time through careful curation.
MyPod Studios, launched in October, 2010, was built to provide an alternative to the standard issue video networks that litter the Web, and take a slightly more unique approach to presenting online video.
Here are some excerpts from article. Jay Miletsky says:
"Our primary goal is to create something that people will seek out as a source of great entertainment, enjoy, and want to see more of. We want to continue to grow the amount of watchable content on the network, while remaining a gated community of only pre-approved videos.
I think our network provides a more fun and enjoyable experience than many of the others.
It's also more personal – the hostess on the home page and category pages add a level of humanity to the site that people can relate to, and we've made the Pods easy to find and access. So I think we've definitely done something right when it comes to the user experience.

But more importantly, I believe our popularity comes from the fact that we maintain control over the network.
We look at all of the content that we're presented, and ask ourselves if it informs, educates and/or entertains...."
read full interesting article http://j.mp/zznJJD
Via
Giuseppe Mauriello