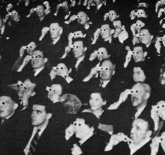 No, the movie industry is not dying. Take a look at some cutting-edge technologies that are moving film forward.
1. Imax with Lasers - Laser projection systems promise to fix the washed-out, eye-straining quality of 3D movies that everyone hates, and since lasers don't burn out the way bulbs do, struggling movie theaters will be able to save a lot of money.
2. Digital Cameras in the field - new breed of digital cameras (RED One) will have an equally revolutionary effect on the way movies are filmed and the kind of storytelling that drives them.
3. Watching movies on your phone/tablet - Increasingly often, indie films that don't have the luxury of wide distribution are being released on YouTube and Hulu on-demand the same day they come out in theaters.
4. Projecting movies from your phone - You can now project movies on any surface (including ceilings, airplane food trays and foreheads) from your phone—via an affordable, pocket-sized pico projector like 3M's MPro120.
5. 3D without the glasses- "lenticular lens technology," bumpy screens that redirect light to each eye—allowing us to process two different images at the same time (the way we do in real life), which gives the perception of depth.
6. Realistic audio experiences- Dolby's new Atmos sound system, which was introduced in April 2012 and will be used at upcoming Hobbit screenings. By adding a rig of speakers to the ceiling and adding more speaker feeds/audio inputs all around, the system pushes sound out from even more directions—making auditory effects almost alarmingly naturalistic.
7. 4D "Korean Style" - They've adapted blockbusters like Avatar into 4D, so that audiences experienced the breezes of Pandora in their hair, and smells of smoke and foliage. Even better, Kung Fu Panda came with massage chairs that literally beat you up during fight scenes.
8. Interactive Movie Screens - While still in early stages, interactive movies use technologies like WebGL (a web-based tool that brings low-level 3D graphics to compatible browsers) to bring audiences deeper into the narrative.
9. Second Screen experience Apps - Everyone already fiddles with their phones when watching a movie. Now, developers are taking advantage of that by creating apps that go along with movies—letting you scroll through trivia, photos, and even videos synced to what's happening on the big screen.