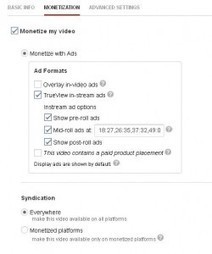 "This is a guest post from director Nick Lawrence who wanted to share his experience in releasing his filmTime Expired on Youtube so that all might benefit from it. If his numbers seem low to you, think about how much money a typical filmmaker receives from a no advance distribution deal with little marketing efforts put behind it where the filmmaker has relinquished all rights to her film. That is the most common distribution scenario of most low budget, no prestige festival, no name cast independent films.
YouTube isn't just a spot to share short videos. It's also a surprisingly strong platform for releasing your feature-length film. My producing partner (Rachel Tucker) and I released our 93-minute comedy film Time Expired on YouTube in late 2011. Since then, the film has been viewed almost 700,000 times, with 2,000-3,000 people watching it every day. We've earned $3400 in ad revenue in the last year, and the numbers keep growing: $339 in April, $442 in May, $652 in June.
In fact, YouTube has become our most lucrative platform, far outperforming VOD and DVD sales. Since Time Expired was made for a very low budget, we are actually looking at recouping our entire investment in five to ten years — almost completely thanks to YouTube revenue...."
Via
siobhan-o-flynn