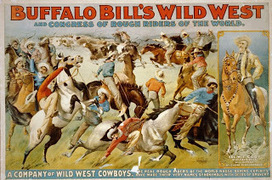 The latest issue of The Linguist has a colourful, well-researched article about Buffalo Bill's Wild West, a spectacular live show that toured Europe between 1880 and 1906 and made its creator, William F. Cody, "the entertainment industry's first international celebrity." Before my time, but my father saw it when it came to England, probably when it performed in Birmingham in 1903.
"Buffalo Bill's Wild West delighted audiences in England, Scotland, Wales and 15 countries in continental Europe, igniting 'Wild West Fever' almost everywhere it went, by offering what purported to be an authentic experience of the American frontier, complete with real cowboys and 'Indians'."
In order to reach audiences in all these countries with its advertising and programmes, the show needed translators. There are copies of the materials they produced at the Buffalo Bill Historical Center in Cody, Wyoming,
"...yet we have no records of the translator's name, nor indeed do we know the names of the numerous translators and interpreters who enabled Cody and company to overcome the language barriers that they faced on the continent...
"The author of most of the English language source material... was John M. Burke, the General Manager, who travelled in advance of the troupe. Although one newspaper account suggests that he was an accomplished linguist... the quality of the translations is so high that it would be a remarkable feat if they were all the work of the same non-professional translator."
We also know that the Wild West employed interpreters,
"because Charles Eldridge Griffin, who managed the exhibition's side-show from 1902 to 1906, left a memoir in which he alludes to the difficulties that they had with their interpreters in the Austro-Hungarian Empire. 'Some towns would be about equally divided between four or five nationalities, and, although they all understood German, the official language, each would insist on being addressed in his native language.'"