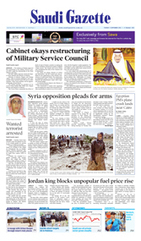 DUBAI — Bahrain has criticized Iranian officials over a mistranslation of a speech by Egyptian President Mohamed Morsi, which replaced the word "Syria" with "Bahrain."
The reference was diplomatically sensitive.
Morsi gave the speech Thursday during a meeting in Tehran of the Non-Aligned Movement, a group of 120 mostly developing nations.
He did not mention Bahrain, and the Bahraini government lodged a complaint with Iran's charge d'affaires Saturday over the mistranslation on Iranian state television and radio.
"This is a violation, fabrication and unacceptable media behavior that shows how Iranian media is interfering in Bahrain's internal affairs," Bahrain's news agency BNA said late Saturday, adding that Bahrain had demanded an apology.
The head of Iran's state media said Sunday the word "Syria" was mistranslated on only one of its channels.
"In a verbal mistake, this translator said 'Bahrain' instead of 'Syria' and this became a pretext for Western media," Ezatollah Zarghami was quoted as saying by Mehr news agency.
Morsi perturbed his hosts in his speech by describing the government of Syria as "a regime that has lost its legitimacy" and calling for its ouster. His words prompted Syrian delegates to leave the hall.
Egyptian newspapers said Morsi was also misquoted as hoping for the "continuation of the Syrian regime".