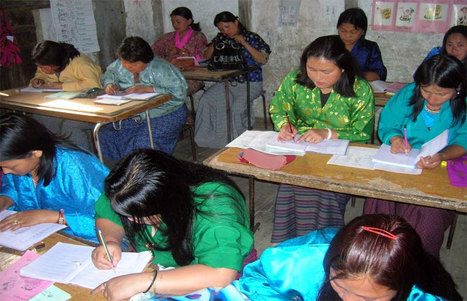 22 August 2012 – Literacy programmes in Bhutan, Colombia, Indonesia and Rwanda won the 2012 International Literacy Prizes of the United Nations Educational, Scientific and Cultural Organization (UNESCO).
The awards, worth $20,000 each, will be distributed on 6 September in a ceremony at UNESCO Headquarters in Paris, France, as part of the celebrations for International Literacy Day, observed annually on 8 September, the agency announced in a news release on Tuesday.

Two programmes were awarded the UNESCO King Sejong Literacy Prize, which was created in 1989 by the Republic of Korea, and two received the UNESCO Confucius Prize for Literacy, created in 2005 by the Chinese Government.

The Directorate of Community Education Development in Indonesia received one of the two UNESCO King Sejong Literacy Prizes for its work to improve the "quality of literacy education through entrepreneurship literacy, reading culture and tutor training." The programme, a Government initiative, involves almost three million people and puts special emphasis on women so they can receive basic literacy training.
The second UNESCO King Sejong Literacy Prize was won by the National Adult Literacy Programme of the Pentecostal Church in Rwanda. The agency said that the programme was selected for its focus on women and out-of-school youth. The programme, which has reached over 100,000 people, also aims to ensure that individuals lea