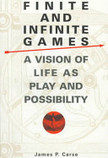 A fascinating meditation on life as a contest of games to be completed and games to be continued--and on what lies beyond winning and losing.
There are at least two kinds of games: finite and infinite.
A finite game is a game that has fixed rules and boundaries, that is played for the purpose of winning and thereby ending the game.
An infinite game has no fixed rules or boundaries. In an infinite game you play with the boundaries and the purpose is to continue the game.