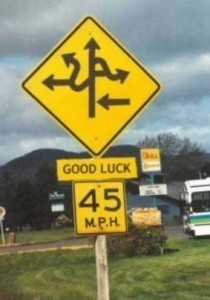 I've been working on 'how change happens' for a few years now, as regulars to this blog will know, but in the last few months, 'theories of change' has gone viral as a new development fuzzword. In meetings and documents, people earnestly enquire 'what's your theory of change?' and you're in trouble if you don't have an answer. (Quite a good answer is 'could you just explain what you mean by theory of change?' – people often have no idea).
So it's time to ride the wave and speed up the 'theories of change' work programme, and last week I spent some time at IDS and with Oxfam big cheeses thinking through what a joint IDS-Oxfam work programme might look like. Here's what I'm currently thinking, with a plea to others to comment, send sources and otherwise give me a hand. Hat tips to Thalia Kidder and Jo Rowlands for their suggestions.
Firstly it's 'theories' not 'theory'. When people talk about a single 'theory of change' (ToC from now on), alarm bells should ring – in the worst case it's just a new jargon for old-school linear change, impact chains, logframes etc. Instead of a deluded search for a single grand theory of everything, we need to learn to recognize and manage a range of theories, throw them at a problem, and see which ones are helpful (see my recent experience of doing this in Tanzania). Yes folks, we're talking practical post modernism….. Surfacing our deeper, buried assumptions about the motors of change can also help us understand why we keep disagreeing with each other, a crucial skill in coalition-building.
Via
Erika Harrison