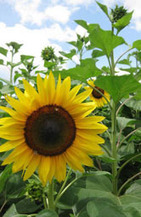 Permaculture is a process for designing sustainable communities and is derived from permanent agriculture and permanent culture. Permaculture is a combination of traditional wisdom, modern science and technology and a detailed understanding of natural processes.
Permaculture provides practical solutions to current unsustainable living standards, generating life styles which minimise our impact on the environment.
Permaculture is a design system based on ethics and principles which can be used to establish, design, manage and improve all efforts made by individuals, households and communities towards a sustainable future.
Our first 2012 course has already sold out, but we are now taking enrolments for an extra course, which will commence on Tuesday 7 February 2012