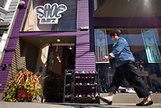 Whether you are looking to buy a power tool or neon jeans online, chances are you start your search on Google or Amazon.com. But which one?
Trying to stave off the competition from Amazon, Google has recently changed Google Shopping to require e-commerce companies to pay to be included in shopping results, so product listings are now ads. Inclusion used to be free. Seems like a bad move to me ...
In 2009, nearly a quarter of shoppers started research for an online purchase on a search engine like Google and 18 percent started on Amazon, according to a Forrester Research study. By last year, almost a third started on Amazon and just 13 percent on a search engine. Product searches on Amazon have grown 73 percent over the last year while searches on Google Shopping have been flat, according to comScore.