Scoop.it!
Creatively Inspired @ S.T.O.P. signs!!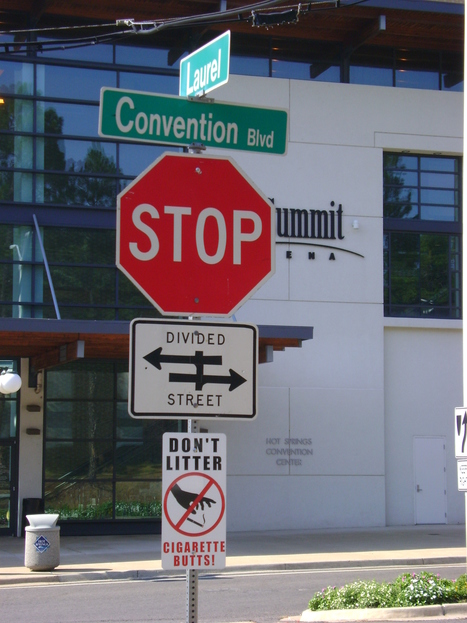 True Mark Alisandre's insight:
When you pull up to a STOP sign, are you a little resistant to come to a complete stop, where you feel the 'bounce back' of your auto? For years now since I received a 'stop sign running ticket' in Philly, I have tried several entertaining activities that stimulate my creativity, and uplift my health as well.
1) I have asked myself what could the letters S T O P represent, that would be an inspirational message. Some of the earliest were: Stillness Touches Our Planet & Small Time Of Peace. These were a way bit better than the adolescent ones we acted out on our scooters /cycles: Skid Tires On Pavement! Some of my more recent creations are: Smiling Teaches One Plenty & Stretch Those Opposing Parts.
It's interesting that a mayor in Oak Park, IL. (a Chicago suburb) several years back came up with another creative idea for getting motorists to stop completely at these octagonal signs. He put red rectangular signs under the stop signs saying things like: IN THE NAAAME OF LOVE, & WHOA THIS MEANS YOU. Well a funny thing happened, the state transportation department told him he was violating the definition of a stop sign, & had to take the humorous, inspiring signs down or lose his Federal road funding. One Little Rock city manager thought my idea of having a contest for the best S.T.O.P. saying was great, but for similar reasons the road department couldn't implement it. Any ideas about how to get us 'lickety split' / zippity do dah human doers to stop completely and have a breath of fresh air?
2) That's my second mind blowing thing to do at a stop sign: a) breathe out coming up to the sign, b) feel the lungs emptiness @ the sign, and c) let a refreshing new breath to enter your lungs as you cool & calmly accelerate from the intersection. Whadda ya think? I sense it's an idea whose time has come!