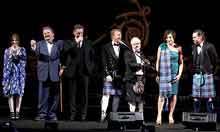 Rich Stanton: The creators of Wall-E and Up once had an interactive division. Why did they close it, and does it matter?...
"When we had that in-house division we wanted and needed those artists to be working on the films," Sarafian says. "So we kept on borrowing them and were thinking 'Why are we doing this? Let's just make the movies.' That's where our passion is."
It's hard to argue with that. "We spend as much on video games as we do on movies," Andrews later tells me, somewhat unconvincingly.
Brave does reach beyond the home consoles – Temple Run: Brave is a themed version of last year's hit app, while Brave: Storybook Deluxe is a much more interesting case.
This is one of Disney Interactive's newest forays, and Brave is one of a series of offerings such as the Lion King and Tangled. They all share the same template.
And when put next to stuff like The Fantastic Flying Books of Mr Morris Lessmore (watch the trailer) or the Numberleys (watch the trailer) you see the difference. Both of these "interactive storybooks" are made by Moonbot Studios, two of the three co-founders of which have a history with Pixar, and next to them the Brave Deluxe Storybook feels like those Activity Packs you used to get on long car journeys....