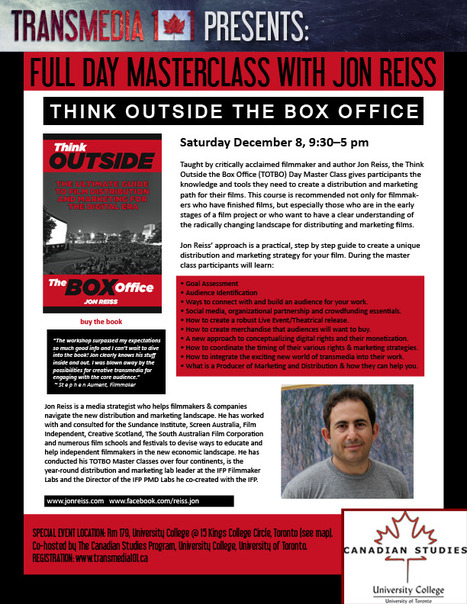 How can you use new digital platforms & marketing strategies to support your film?
Check out the Raves for Jon's TOTBO Masterclass here:
[vimeo http://www.vimeo.com/37403017 w=400&h=300]
And download the schedule here:
http://transmedia-101.com/wp-content/uploads/2012/10/jon-reiss-schedule.pdf
Buddy up for a discount! Transmedia101 is bringing internationally acclaimed filmmaker & digital distribution consultant Jon Reiss to Toronto for a full day Masterclass on Dec 8.
Take advantage of our GROUP5 (5 friends @ 25% off) & FRIEND2 (2 friends at 20%) discounts to catch internationally acclaimed Jon Reiss' masterclass 'Think Outside the Box Office' Dec. 8 9:30-5.
register: http://www.eventbrite.com/event/4484007788
This course is recommended not only for filmmakers who have finished films, but especially those who are in the early stages of a film project or who want to have a clear understanding of the radically changing landscape for distributing and marketing films.
Jon Reiss' approach is a practical, step by step guide to create a unique distribution and marketing strategy for your film.
Limited time offer to Dec. 1
More info:
http://transmedia-101.com/transmedia-101-masterclass-with-jon-reiss/