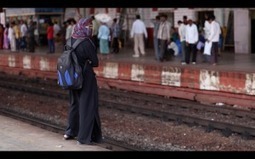 "Focusing on daily sexual harassment in India, interactive documentary Fearless looks to go beyond the headlines to really show what it's like to be a young Indian woman...
The idea for the project is to create a "choose-your-own-adventure" style documentary that will live online. As the user, you'll navigate the streets of urban India and go from one place to another, simulating the experience a young Indian woman might have during the course of her daily routine.
You'll have to make some choices about your mode of transportation, whether than means the train, the bus, or something else (like a rickshaw). You'll encounter harassers — and confront them. Along this journey, you'll also get to meet real people (from young women to police to activists) from all backgrounds who will share their personal experiences with sexual violence."