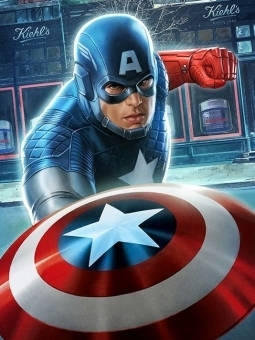 kiehl's sent a custom captain america comic book to certain wall street journal subscribers thursday as part of a content-marketing effort...
In the 12-page story, created specifically for Kiehl's by writer William Harms and artists Angel Unzueta and Ty Templeton, Captain America must protect some "rare extracts and botanicals" -- hidden in the Kiehl's basement -- that could be used to create another super-soldier like himself.
The story doesn't mention any Kiehl's product by name, but the action is bookended by ad pages from Kiehl's including six pages touting its Facial Fuel for men and Ultimate Man body scrub soap.
The comic book is available at Kiehl's stores with the purchase of any product and a digital version is on the company's website, but Kiehl's worked with The Wall Street Journal because the company wanted more people, predominantly men, to see the comic. "We feel it is so true to our DNA," Mr. Salgardo said. "Instead of advertising, this allows potential new customers to understand Kiehl's -- our quirkiness, but also our expertise in serious skincare."...