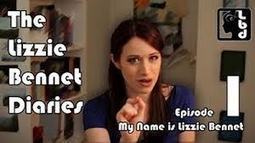 "A look at the storytelling journey and digital marketing for transmedia and web series success story The Lizzie Bennet Diaries....
The Story is the Thing
Lizzie Bennet co-creators Hank Green and Bernie Su recognized from the beginning Pride and Prejudice was their "greatest weapon," a fantastic tried and true story (as Hank's wife had pointed out). The book was first published on January 28, 1813, but has been retold and reimagined in plays, movies, television shows and multiple other creative works. This romantic comedy of errors has also often found significant commercial success. I could not help doing a little keyword research and noted that "pride and prejudice" is still searched over 200,000 times a month on Google. This enduring story clearly has much resonance, which the LBD team handled beautifully, transitioning it to a modern setting and narrative with great writing and pitch perfect casting (especially for Lizzie, Jane and Lydia)...."