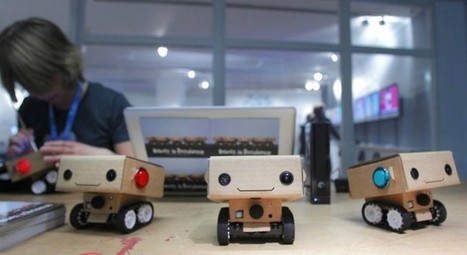 "This year the Tribeca Film Festival took digital storytelling directly to the people with an entirely new juried interactive exhibition programmed by the Tribeca Film Institute's director of Digital Initiatives, Ingrid Kopp. Nestled in a gallery-like space on Varick Street, "Storyscapes" featured five cross-platform/transmedia projects that were both free and open to the public via reservations and walk-ins. A fully interactive, hands-on, immersive experience, one of the projects, "Robots in Residence," even allowed participants to take the actual robots out into the streets of New York with some surprising results.
Creating physical installations for digital and online-focused projects has its own challenges and rewards. I spoke with many of the Storyscapes creators to find out if participating in a Film Festival was worth the time, cost and effort as well as how the "up close and personal" audience experience and actual deployment of the project varied from their online presentations.
For many of the creators, this was the first time they have seen their audience physically interact with their projects. With the exception of the Aaron Koblin and Chris Milk project, "The Exquisite Forest" installed at the Tate Modern in 2012, most of the projects did not have a physical component before participating in Storyscapes. Creating the actual display, as well as addressing technical issues, was an interesting challenge for the creators and forced them to take a hard look at how to best curate the online content in order to present it in a cohesive and creative fashion to the Tribeca Film Festival attendees and general public...."
- See more at: http://www.pbs.org/mediashift/2013/05/digital-storytelling-up-close-in-person114#sthash.IhJoof7w.dpuf